It seems our youngest child hasn't had equal time in front of the camera. That isn't quite true - we just haven't posted photos in a long, long time. So here, for familial and friend-like amusement (Hi Aunt B and Aunt Bonnie!), the One, the Only, SMIDGE!
We have to back up a bit at first... to, well, to the middle of April, when we decided we'd rather get weepy over his transition to a Big Boy Bed than actually have to pack both the crib and the bed...
He helped put it together...
And boy was he surprised to see how it turned out!
And he couldn't wait for the linens... or a pillow...
Shortly after we arrived here, we hit the Rocket City BBQ and WhistleStop Festival. They had corn. Smidge was happy (he ate three of these):
Then he braved the inflatable, scary, fast-paced bigger kid rides. Repeatedly. Even bigger kids shoving their way past him did not deter him in the least -
He just got right back up and kept going, going, going...
Evidently the view from up there was phenomenal. And the ride down, spectacular!
He was part of the Fishing Troop on Mother's Day (seen here, riding in style down to the lake) -


And this had me howling. The three boys sat on the wall, talking, watching, fishing. I tried to get a good picture of the three of them, but James and John were engaged in something and didn't hear me. I jokingly said, "OK, now pretend I said something funny," and Smidge busted out laughing, pointing at absolutely nothing, and slapping his leg with enthusiasm.





He's been promoted to a supervisory capacity for holidays now. Here he is, overseeing Zorak's Birthday Bash.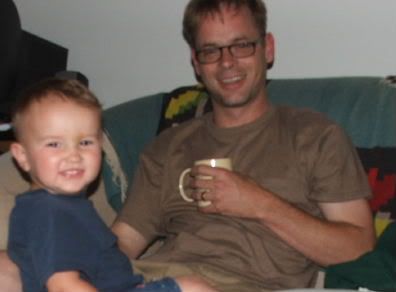 And there you have it - you're now mostly updated on Smidge's goings on and big events. He's really grown so much. He's such fun, and so filled with enjoyment for everything he can find to explore. What fun!
Kiss those babies!
~Dy